The inclusion complex of ruracidone and sulfobutyl beta cyclodextrin sodium is good
Views:0 Author:Site Editor Publish Time: 2021-05-19 Origin:Site
The main characteristics of ruracidone are faster onset (blood drug peak time is 1-3 hours), less impact on cardiac QTc intermittence, and half-life as long as 18 hours, which can better control schizophrenia. However, due to its poor water solubility, only 0.224mg/ml, ordinary solubilization method can be prepared for injection liquid preparation, but due to the poor turbidity stability, the drug is easy to precipitate from the liquid, so the application value is small. Using benzyl alcohol or DMF as solubilizer, the solubility of ruracidone or its salt can be increased. However, benzyl alcohol has a common clinical side effect: gluteal muscle contracture, which is because benzyl alcohol is not easy to be absorbed by the human body, long-term accumulation in the injection site, will lead to the necrosis of the surrounding muscles, serious cases, and even affect the development of bones. DMF, as an additive for injection, can cause skin swelling and severe burning pain, which is usually difficult for patients to tolerate. Therefore, it is necessary to develop new injection preparation of ruracidone, which can not only promote its solubilization effect, but also produce less adverse reactions.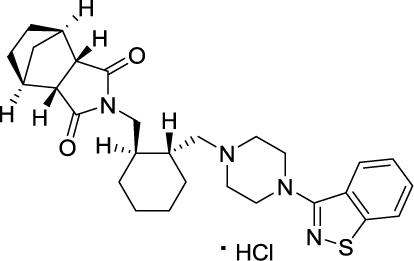 The invention relates to a ruracidone cyclodextrin composition, which is composed of ruracidone or its pharmaceutically acceptable salt and cyclodextrin, and the cyclodextrin is hydroxypropyl beta cyclodextrin or sulfobutyl beta cyclodextrin. The composition improves the water solubility of ruracidone and its pharmaceutically acceptable salt, and provides a feasible preparation method for ruracidone injection.
The composition of ruracidone is characterized in that the weight ratio range of the ruracidone or its pharmaceutically acceptable salt and cyclodextrin is 1:10-1:50. The data show that sbecd and hbecd can increase the solubility of ruracidone hydrochloride to more than 15 times. With the increase of the concentration of cyclodextrin, the solubilization effect is more obvious. At the same concentration, the solubilization effect of sulfobutyl beta cyclodextrin is better than that of hydroxypropyl beta cyclodextrin.